Well now that Ice Cubes new Album "War & Peace" is out, I wanna dedicate a page to one of the others big Rappes besides Tupac, the following text is from "www.icecube.com".
HAPPY BIRTHDAY ICE CUBE

Sonic Net, Frank Tortorici:, June 15, 1998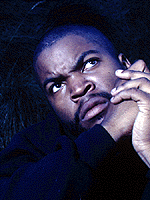 Today is the 29th birthday of O'Shea Jackson, a.k.a. Ice Cube, who was born in Los Angeles and raised in South Central L.A. While in high school, Cube and his pal Sir Jinx rapped as the duo CIA at parties thrown by Dr. Dre.
Cube wrote a rap titled "Boyz-n-the-Hood" and offered it to rapper Eazy-E's group, HBO. When HBO passed on the track, Cube, Eazy-E and Dr. Dre formed N.W.A. Cube left the group briefly to study architectural drafting in Arizona, but he was back for N.W.A's Straight Outta Compton (1988), which became a hit in rap circles. The album's extreme politics, violence and profanity set a new standard for rap music and attracted a great deal of criticism -- and the attention of the FBI. But Cube had disagreements with the group's management and left in 1989.
Moving east with his new group, Da Lench Mob, Cube recorded his debut solo album, provocatively titled AmeriKKKa's Most Wanted (1990), with the Bomb Squad of Public Enemy fame. The album immediately went gold, and Ice Cube's talents as an intelligent, rhyming lyricist gained notice, but he was also deemed dangerous by critics and civil-rights groups for his perceived misogyny and anti-gay sentiments.
As Ice Cube became a powerful force in the rap world, he started his own corporation. He put a woman in charge of his company and produced an album for a female
friend, Yo Yo, to counter charges that he had a hatred of women. But his dangerously titled 1990 EP, Kill at Will, brought more protests.
An even larger furor erupted over Cube's next release, 1991's Death Certificate. "No Vaseline"(RealAudio excerpt) reeked of anti-Semitism, and "Black Korea" called for the burning of Korean-owned grocery stores. Billboard magazine asked stores to boycott the album. Despite or because of the controversy, the album went platinum. 1992's The Predator was Cube's most popular album, becoming the first album to debut at #1 on both the pop & R&B charts. In addition to documenting his conversion to the Nation of Islam, The Predator featured the single "It Was a Good Day" and a collaboration with Das EFX, "Check Yo Self," which sampled old soul records. Ice Cube also toured as part of the Lollapalooza tour that year and succeeded in attracting white rock fans. Following the success of The Predator, Cube's prominence in the rap world began to decline. 1993'sLethal Injection courted a white audience while railing against it at the same time. It sold fairly well, but Ice Cube was experimenting with too many rap styles and he confused listeners. Cube then took ahiatus from solo recording and wrote, sang on and produced Da
Lench Mob's 1994 debut, Guerillas in the Mist. He also produced Kam's debut Neva Again that year.
Back in 1990, Cube had extended his creative reach into acting, starring in John Singleton's Oscar-nominated film about urban culture, "Boyz N the Hood." (The movie's title was taken from Cube's early rap.) He resumed acting in 1995 with another Singleton film, "Higher Learning," and in 1996 Cube wrote and acted in "Friday." His recording activity continued, as well. After dueting with Dr. Dre on "Natural Born Killaz," Cube formed the Westside Connection with WC and Mack 10 and released their album Bow Down (1996). Cube was featured in the 1997 film "Anaconda" and that year rapped on hip-hopper Ant Banks' Big Thangs.
1998 promises to be a big year for Ice Cube. He has guested on Mack 10's third solo album, acted in and directed the feature "The Player's Club" (distributed by New Line Cinema, with whom he just signed a two-year, first-look development and production deal) and is set to release his first solo album in four years. The soundtrack to feature "The Player's Club" is the first release of Cube's new Heavyweight Records, and he is featured on it. His double set, War and Peace, is reportedly more hardcore than his past efforts and is set for release at any moment. Cube also will be on a CD tribute to the Clash, scheduled for release soon, and he has recently recorded with grunge-metal band Korn. Most interestingly, N.W.A are rumored to be reuniting at the end of the year.
THE PLAYERS CLUB / *** (R)
Chicago Sun Times, Roger Ebert, April 8, 1998
Diana Armstrong: LisaRaye
Dollar Bill: Bernie Mac
Ronnie: Chrystale Wilson
Tricks: Adele Givens
Blue: Jamie Foxx
Reggie: Ice Cube
(New Line, R) ``The Players Club,'' written and directed by hip-hop star Ice Cube, is a gritty black version of ``Showgirls,'' set in a ``gentlemen's club'' where a young college student hopes to earn her tuition. Rich with colorful dialogue and characters, it'ssometimes ungainly but never boring, and there's a core of truth in its portrait of exotic dancers.
Thirty years ago, this material would have been forced into the blaxploitation genre--dumbed down and predictable. But Ice Cube (who also co-stars) makes ``The Players Club'' observant and insightful; beneath its melodrama lurks unsentimental information about why young women do lap dances for a living, and what they think about themselves and their customers.
The movie stars a convincing newcomer named LisaRaye as Diana, who has a fight with her father over what college to attend.Pregnant and jobless, she moves away from home, gets a job in a shoe store and is fairly happy until her child's father want "more space," and abandons her. Then she meets Tricks and Ronnie, two dancers at the Players Club, who tell her there are ways to make a lot more money.
They are correct, but the money comes at a price. The film is knowledgeable about details
of the clubs: the camaraderie of the dancers, the flamboyance of the owner and grandiloquence of the doorman, the way the bartenders and the disc jockey keep an eye on the action, and the needy absorption of the customers. "The first dance is degrading,'' Ronnie (Chrystale Wilson) tells her, "but you get used to it.'' Her advice: Don't look at the customers, look at yourself in the mirror.
Onto this semi-documentary material is grafted a crime story involving the mysterious St. Louis, a gangster who is owed a lot of money by Dollar Bill (Bernie Mac), the club's fast-talking owner. St. Louis wants his money, Dollar Bill doesn't have it, and at one point Bill is inside a car trunk, and we think we know what has to happen next, but the action tilts toward farce rather than tragedy. (A lot of people get shot at in the movie, but I don't think anyone ever quite gets killed.)
Problems for Diana begin when Ebony (Monica Calhoun), her 18-year-old cousin, comes to stay with her. She wants to keep Ebony away from the club, but ``Ebony jumped head-first
into the lifestyle,'' and soon Diana, who has drawn the line atprostitution, finds that Ebony treats it more like a career goal. Ice Cube uses strong dramatic intercutting to build suspense in a scene where Ebony, hired as a dancer at a bachelor party, is uneasy to find there aren't any other girls there.
What's interesting about ``The Players Club'' is how it moves through various tones and
kinds of material. There's the documentary stuff, the crime story, Diana's shaky romance
with a new boyfriend, Ebony's problems, and comic relief from the stylized dialogue of Dollar Bill and his doorman, L'il Man (A.J. Johnson). And then a strong underpinning of economic reality, as Diana works hard to pay her bills and is encouraged by a professor after she finds herself falling asleep in class.
The movie has strong scenes for all its major characters, including a boozy afterhours party thrown by some federal agents who hire Ronnie and some of the other girls as strippers. Ronnie knows these guys from earlier parties and plays the role of dominatrix. (Slapping one officer on the behind with a paddle, she says, ``That's one more for Rodney King.'') The scene develops interestingly: At first we think Ronnie may be in danger, and when we see she knows what she's doing, Ice Cube resists the temptation to go for a comic put-down of the agents and stays instead with the real tension of the tables being turned. The scene's effect depends on the way Wilson plays it; a less convincing performance, and we wouldn't buy it.
The movie doesn't preach, but it has values. It sees the Players Club as a job, and the women there as workers, not sex objects. It's work that pays well, but at a price, and although Diana has rules about drugs and sex, Ebony seems like an excellent candidate to crash and burn. I liked Ice Cube's ambition in writing so many colorful characters and juggling them all at the same time.
The movie is sophisticated about its people and places, and Diana and Ebony have the clarity of characters who seem drawn from life. It would be easy to dismiss ``The Players Club'' by looking only at its subject matter, but look a little harder, and you
see an ambitious filmmaker at work.
Copyright © Chicago-Sun-Times Inc.
THE PLAYERS CLUB
Entertainment Weekly, Thursday, April 16, 1998
LisaRaye, Jamie Fox
(New Line, R) The words "written and directed by Ice Cube" may strike fear in the hearts of many moviegoers, but don't let them scare you away from this potent,teeming ensemble drama set in a rowdy black Southern strip club. Working with the cinematographer MalikSayeed, who brings the images the same voluptuous neon-hot glow he gave Spike Lee's Clockers and Girl 6, the rap star-turned-auteur approaches the violent, degraded skin-trade setting with the lived-in zeal of a gangsta anthropologist. He shows us the table dances and bachelor parties, the pimp-daddy postures and loaded-gun payoffs in all their nasty, funny bravura, but with an eye to the tragic ironies of a demimonde in which lust, power, and defiance rule the most intimate gestures. The narrative sprawls a bit too freely, but that's part of the film's hair-trigger force, and there isn't a performance you feel you've seen before. Especially good are LisaRaye as Diamond, the proud middle-class stripper trying to keep her mind out of the funk, and Bernie Mac as Dollar Bill, the imperious club owner who trumpets whole sentences in a single mesmeric burst. In the dressing-room scenes, Ice Cube creates a high-tension community that transcends facile feminism: These strippers are too tough to be victims, too wary to be "girlfriends."B+ -- Owen Gleiberman
Movie Review
Ice Cube's 'Players' Proves He Is One
By GENE SEYMOUR, For The Los Angeles Times
By day, she's Diana Armstrong, single mom and journalism major at a historically African American university in Atlanta. At night, she's Diana Diamond and she takes off her clothes and dances for dollars at a strip joint as raucous as the movie with which it shares its name, "The Players Club." As conceived by rapper-actor Ice Cube, who wrote, directed and co-produced the film, Diamond conveys some of the Mama-don't-take-no-mess confidence of such "blaxploitation" heroines of the 1970s as "Foxy Brown" and "Coffy." She can duke it out, even shoot it out, if the situation requires. Implausible as such a superwoman might sound, there's enough charm, conviction and charisma in the performance of newcomer LisaRaye to make you believe in and root for Diamond in her dubious struggle for dignity in undignified surroundings. Yet one is moved to ask, once again, where Hollywood comes by this impulse for casting beautiful black women as strippers: Vivica A. Fox in "Independence Day," Lela Rochon in "Gang Related" and now a whole club filled with such dynamos as Diamond and Ronnie, the club's star dancer, played with malevolent gusto by another rookie film actor, Chrystale Wilson. They're such strong presences they make you wonder what they'd be like dueling in a courtroom instead of a dressing room.
As was the case with 1995's "Friday," for which Cube wrote the script, "Players Club" is loosely constructed with anecdotesflowing into each other with the ambling, hit-and-miss rhythm of a comedy routine. Also like "Friday," the movie is heavily populated with an all-star lineup of comics, including Jamie Foxx as the club's caustic disc jockey; Bernie Mac as Dollar Bill, the club's slime-ball owner; A.J. Johnson as Dollar's put-upon sidekick; and Adele Givens as a dancer with so much mileage on her that the club empties as soon as she swaggers onstage. Such casting may lead you to believe that "Players Club" is a laugh riot. But there's also a lot of grim, unsettling stuff, much of it involving Diamond's seemingly naive cousin Ebony (Monica Calhoun). Cube even casts himself as one of the film's unsavory characters. Despite the coarse edges of "The Players Club," there's a lot to be said for Cube's care in balancing the sweet and sour elements of his narrative. He's far from being a master. But he's a player for sure. * MPAA rating: R, for strong language, sexual content and violence. Times guidelines: It's tough stuff.
'The Players Club'
Monica Calhoun: Ebony
Ice Cube: Reggie
Jamie Foxx: Blue
Adele Givens: Tricks
LisaRaye: Diana Armstrong/Diana Diamond
Bernie Mac: Dollar Bill
Larry McCoy:St. Louis
Chrystale Wilson: Ronnie
New Line Cinema presents a film by Ice Cube. Produced by
Patricia Charbonnet and Carl Craig. Written and directed by Ice
Cube. Cinematography Malik Hassan Sayeed. Music Frank
Fitzpatrick. Production design Dina Lipton. Costume design Dahlia
Foroutan. Editing Suzanne Hines. Running time: 1 hour, 47 minutes.
* * * * In general release throughout Southern California.
ICE CUBE BIOGRAPHY
Rolling Stone Magazine
Born O'Shea Jackson in 1969, gangsta rapper Ice Cube
grew up in a middle-class home in South-Central Los Angeles, where he first began rapping in high school. After studying architecture in Phoenix, Ariz., Ice Cube returned to Los Angeles in 1987 and joined the controversial rap group N.W.A. (Niggaz With Attitude), which also included Eazy-E, Dr. Dre, DJ Yella, and others. Though N.W.A. was quite successful, selling millions of albums thanks to the media controversy generated by their violent, sexist, homophobic lyrics, Ice Cube felt he was not being treated fairly by the group's management. As a result, Cube quit N.W.A. in 1989 and moved to New York, where he formed a backing group called Da Lench Mob and recorded a soloalbum, 1990's AmeriKKKa's Most Wanted. Though his album was as vulgar as those by N.W.A., it earned critical praise for its production (done by Public Enemy's Bomb Squad) and style, and went gold within a week of its release. Riding on his crest of fame, Cube produced an album for female rapper Yo-Yo and appeared in the hit movie Boyz N the Hood.
Ice Cube returned in 1991 with Death Certificate, which reached No. 2 and went platinum despite the fact that it contained an anti-Semitic rant ("No Vaseline") and a rap calling for African-Americans to attack Korean-Americans ("Black Korea"). The following year Ice Cube appeared on the Lollapalooza tour, expanding his following among white suburban youth. Not surprisingly, 1992's The Predator was an even bigger hit, debuting at No. 1 on the pop and R&B charts and spawning the smash single "It Was a Good Day." After the release of 1993's Lethal Injection Ice Cube took a break from rapping to produce and remix albums for other artists and appear in movies.
In June 1998, he will be releasing War and Peace, a double album of Ice Cube tracks.
Ice Cube won't bow down to gangsta rap critics
LOS ANGELES - Just inside the gates of a lavish suburban home, little children and a small dog play amid toys scattered by a kidney-shaped pool.
Inside a private recording studio, the owner patiently instructs a small boy on the mysteries of a lava lamp that's perched on the control console.
Not exactly where you'd expect to find the usually scowling Ice Cube, whose collaboration with fellow solo artists Mack 10 and W.C. on the Westside Connection project, Bow Down, is unapologetically billed as "gangsta rap in its highest form." The disc is filled with the kind of whomping, stomping, violent braggadocio that many in the music industry hoped would slip quietly into history's dustbin following Tupac Shakur's slaying.
But Ice Cube (O'Shea Jackson) is used to controversy. Any animosity against Bow Down pales in comparison to the FBI threats and bans by retailers and radio programmers he experienced with his former group, the groundbreaking gangsta rappers N.W.A.
"Of course they don't like the record to a certain degree," Cube says. "The time ain't right. Everybody's supposed to be so positive now, you know, 'Positive rappers on the move.' That's cool, but everybody can't be the same, you know what I'msaying? We do what we do. I can only do what I do best."
Indeed, the fascination with gangsta rap doesn't appear ready to go away.
"Look at the top of the SoundScan," says Cube, alluding to Billboard magazine's record charts. "All the top SoundScans are
actually hardcore rap. You might have a Fugees get through
every now and then, but every year somebody positive and
politically correct comes out. We always in the mix, man.
This generation and generations before us are just addicted to sex
and violence. And that's what they want to hear."
People certainly had interest in Bow Down, which topped the R&B chart and rose to No. 2 on the pop chart and has remained a steady seller since its October release. The Westside Connection album comes at a time when Ice Cube's career with N.W.A is briefly back in the spotlight. N.W.A's Greatest Hits was recently released, and their old label, Priority Records, has sold 50% of itself to giant distributor Thorn EMI for a reported $50 million.
Cube says his relationship with the surviving members of N.W.A (Dr. Dre, Yella and Ren - Eazy E died last year) is "just very, very distant. But, you know, now that I think about it back when I was in N.W.A, it was distant because most of them lived in Compton near each other. I lived in South Central. So it was always distant. We were all talented, we all met at the one place, and we all decided to glue together to create something that had never been created."
The legacy of N.W.A, he says, is that "you can be yourself, do the music that you love and still be successful. The market has changed because now gangsta rap is accepted in some way as a form of rap music. Snoop, all the people that do hardcore rap, can now get paid at a big level. You gotta still bend a little bit, but not as much as in the past. You play Straight Outta Compton on MTV now and nobody's going to say nothing. But back then, it was like, "Hell, no."
Bow Down, which has been adopted by the Los Angeles Lakers as their theme, demands that enemies of West Coast rap "Bow down to the side that's greater than you" even while claiming "I'm not a hater like you."
East Coast rappers, who have been warring verbally with the West Coast for some time, are in for a tough time on the album, particularly on All the Critics in New York, a verbal bashing that accuses the East Coast of copying West Coast stylings. Similarly, rappers Cypress Hill take it on the chin in King of the Hill, a recorded response to a similar attack by Cypress Hill, who claimed that Ice Cube stole a musical hook from them.
Despite the insults, Westside Connection claims they were greeted warmly by fans and media on a recent East Coast promotional tour.
"Basically, it's really industry," Cube says. "Our beef is with the industry, not with the fans on the East Coast or in New York. And we just didn't know what to do to combat that but to do a record about it. I mean, hip-hop has been territorial since the day that somebody said, 'Is Brooklyn in the house?' But just because we throwin' up the W and Westside this and that, everybody gets all offended."
Cube also says Shakur's killing didn't give Westside Connection - which is a one-time project before all three members return to solo careers - pause about the album.
"We see friends die all the time, and the black community has just been able to take death in stride and just keep on going. None of us really knew (Tupac) personally. He's an artist. And rap has been around long enough where you're going to have artists dying, just like we lost Bob Marley, Marvin Gaye, whatever. But the music shouldn't be on hold and the music didn't kill him. The streets killed him."